'Roman child's coffin' opened for first time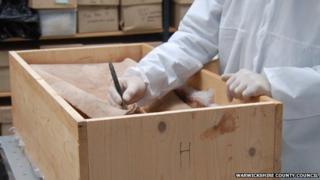 A coffin dating back more than 1,600 years has been opened by scientists in a bid to learn more about life and death in Roman Britain.
Tests being carried out are expected to confirm later this week that it contains the remains of a child.
Made of lead, the coffin was discovered last month in a field in Witherley, west Leicestershire.
Scientists said they hoped it would reveal more about the culture of Roman Britain and even Romans' diets.
They had previously used an endoscope to probe inside the coffin, but said it was "almost entirely full of clay silt".
Stuart Palmer, from Archaeology Warwickshire, which is leading the work, said the contents could also show more about burial rites, clothing, disease and even drug use at the time.
The group is asking for the public's help in naming the child, running a poll on its website.
'Rare and exciting'
The lead coffin was discovered by metal detecting enthusiasts Chris Wright and Steve Waterall.
Mr Wright, 30, from Derby, is a member of the Digging Up the Past Club. He discovered the coffin three weeks ago during an organised dig.
He has been a member of the club for about a year and his most impressive find was a Crimean War medal until the coffin.
He said he initially thought he had found a hoard but was thrilled when he realised it was a grave.
"The response I've had has been interesting," he said.
"To be associated with an object that will help build a picture of what this period was like is an honour."
Archaeology Warwickshire spokesman Stuart Palmer said: "It's important because it's a rare opportunity to look at the burial customs, the environment and the type of clothing.
"At the moment we don't know - it's all guesswork. We hope it will shed much needed light on a remote period of our past."
Before Monday, analysis of the coffin had shown it was made from a single sheet of lead, with hammer marks still visible. The corners were sealed with molten lead.
Archaeologists believe the coffin belongs to the child of a wealthy family and represents an early example of Christian burial.
Mr Palmer said the find was as exciting as the recent discovery of King Richard III's skeleton beneath a Leicester car park.
"This is a different story and will allow us to ask different sorts of questions," he said.