Cotswold District Council backs manager-sharing plan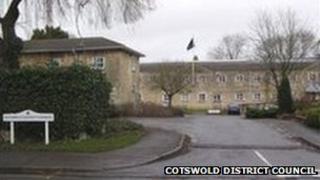 A plan for two district councils to share more senior managers has been backed by one of the authorities.
Cotswold District Council's cabinet has agreed to merge most of its senior management team with neighbouring West Oxfordshire District Council.
The Cirencester-based authority says it would save £600,000 a year if the merger goes ahead.
West Oxfordshire council's cabinet, based it Witney, will consider the same proposal next Wednesday.
'More resilient'
If it agrees, the changes could be implemented as early as April of next year.
The sharing of services is nothing new for the two authorities as both already have the same Chief Executive and share some other staff as well as IT and legal services.
Cotswold council leader Lynden Stowe, said: "As well as cutting costs, sharing officers has helped both authorities to exchange knowledge and expertise and we have also become more resilient.
"We now have this opportunity to strengthen our ties even further in the knowledge that both councils can work effectively together."
The two councils currently have four directors and 17 service heads with a planned reduction to three directors and 12 service heads.
Two directors already work across both councils and the proposals have seven service heads working for both councils.
The council said there was a redeployment policy in place to minimise the number of redundancies and it would "always seek to avoid compulsory redundancies wherever possible".