Norfolk PCC Stephen Bett claimed £3,000 for travelling to his HQ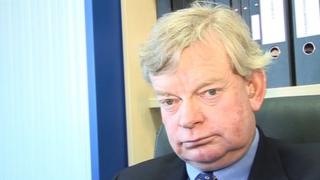 A police and crime commissioner has claimed more than £3,000 in mileage expenses for driving from home to his official headquarters, it has emerged.
Stephen Bett, PCC for Norfolk, claimed for 70 trips from his home to the offices in Wymondham.
Tax expert Richard Murphy said the payments were a taxable benefit that could not be justified.
Mr Bett said the payments were transparent and above board and had been officially approved.
The former Conservative county councillor and Norfolk Police Authority chairman was elected as independent PCC a year ago on an annual salary of £70,000.
He said since taking up the post, he had designated his home at Thornham, near Hunstanton, as his workplace, allowing him to claim mileage when travelling from there on PCC business.
His website shows that from November 2012 to August 2013, he claimed a total of £4,947.75 in mileage expenses.
'Pretty big contribution'
Of that, £3,024 was solely for the 96-mile round trip from home to his headquarters in Wymondham. For each of these 70 trips, he received £43.20.
Richard Murphy, chartered accountant and economist, said: "It's a pretty big contribution towards the cost of running a car.
"It's clear to me that his place of work must be the office in Wymondham. He's clearly contactable there, his staff reports there and that is publicly declared as where he works."
He said under Her Majesty's Revenue and Customs (HMRC) rules, a person could list more than one place as their permanent workplace, but travel between the two was not tax-allowable.
"All of us would love to be paid for travelling from home to work, but the fact is we aren't and there's no reason why Stephen Bett should be," said Mr Murphy.
"If he is, it is a taxable benefit in kind. There's no way that this personal reimbursement cost can be justified.
"I think he should reimburse those expenses to the police commission."
'A kamikaze move'
Jon Harvey, a Labour town councillor in Buckingham and a blogger on PCCs, said: "I'm stunned and surprised that this has happened.
"It's not going to go down well. Politically, it's a kamikaze move, in my opinion."
A spokesman for Mr Bett's office said: "This was a pragmatic and practical business decision to enable the PCC to effectively discharge his duties. There are also environmental and economic benefits."
He said the drive from Mr Bett's home to Wymondham took an hour-and-a-half, which was potentially "dead" time.
All costs of the PCC's office were fully logged and "open to inspection by HMRC", he added.
'Electorate will judge'
Mr Bett, a farmer and company director, said it made more sense to claim expenses from home to many appointments than from Wymondham.
"I was clear from the start that my personal office would be my home and this was checked and cleared by the Office of the Police and Crime Commissioner and my accountant," he said.
"As far as I am concerned this was all transparent and above board. If there are any questions to answer I am happy to be held accountable by the appropriate authorities."
Mr Bett's office issued a statement from his accountant, saying that all payments to Mr Bett for remuneration, mileage allowance and subsistence had been entered on his tax return form.
A Home Office spokesman said: "Expenses should only be claimed by police and crime commissioners to reimburse costs incurred while undertaking their duties, not for non-work related mileage.
"By law, PCCs have to publish their expenses. The local electorate will judge whether they are making best use of public money and hold them to account."
For more on this story, watch Sunday Politics East on Sunday at 12:25 GMT.