Alan Giles hunt: Alcester Grammar School cleaner spots missing killer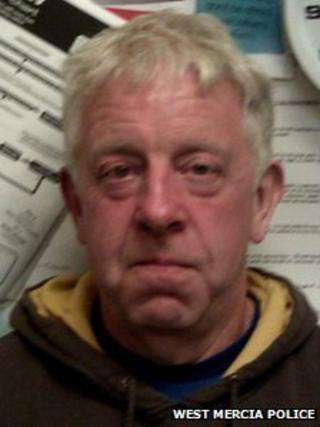 A convicted killer who absconded from prison was captured after being seen by a school cleaner.
Alan John Giles, 56, was serving two life sentences at HMP Hewell in Worcestershire for murdering and kidnapping a 16-year-old boy in 1995.
He absconded from an open part of the prison, near Redditch, on 28 October before being arrested in Gunnings Road, Alcester, Warwickshire on Wednesday.
Lesley Witchard said she rang 999 after making certain she had seen Giles.
"It was about 6:15 in the evening and I was driving three of us from the school after work when I thought I saw him," said Mrs Witchard, who has been a cleaner at Alcester Grammar School for three years.
"I turned the car round to double check and get a good look.
"I recognised him from the pictures the police had put out. He was wearing dark clothes and a dark hat and we agreed he was acting suspiciously.
"He looked like he was hiding in the front garden of a house, we thought it was definitely him."
'Big relief'
Mrs Witchard, 48, said they drove a short distance down the road and pulled over to ring 999.
"We'd seen a police car in the area so wondered whether they'd already got him.
"After I rang 999, we saw police cars outside the church and saw they had a man in handcuffs - then we knew it must have been him."
Mrs Witchard said knowing Giles had been in the area had made everyone nervous and it was a "big relief" to know he had been captured.
"It's affected everyone. We were all getting quite scared."
Iain Blaikie, who has been head teacher at the school for 12 years, said: "We're very vigilant about school security and on Monday I read a description of Alan Giles out to the students.
"The cleaning team are great and this is just another reason to celebrate them."
Giles, formerly of Quinton, Birmingham, who was jailed at Birmingham Crown Court in 1997 for the murder and kidnap of Kevin Ricketts, has been charged with escaping from lawful custody.
He is due before Worcester magistrates on Friday.