BBC criticised over Jamaica Inn filming in Kirkby Lonsdale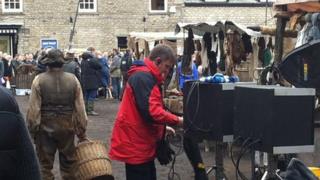 The BBC was wrong to film scenes for an adaptation of a novel set in Cornwall in a Cumbrian town, a Cornish councillor has said.
Some scenes for the upcoming version of Daphne du Maurier's Jamaica Inn, which is set in Launceston, were filmed in Kirkby Lonsdale.
Launceston councillor Jane Nancarrow said they should have been filmed in her "quaint Cornish town".
The BBC said using other areas had "provided a rich variety of locations".
The series was filmed at Cornwall's Holywell Bay and Bodmin Moor, as well as Yorkshire and Cumbria.
Ms Nancarrow said that if the programme makers thought Launceston was "too modern, they can't have looked very closely".
"It took a week to change the look of Kirkby Lonsdale, I'm sure we could've done just as well in the time.
"It's an absolutely brilliant, old, quaint Cornish town [that] is set around a Norman castle, there are ancient pavements and a cobbled square. It would have been ideal."
She added that she was "just flying the flag for Cornwall".
A BBC spokeswoman said that Cornwall was used for "the key locations, as well as Yorkshire, following investment from Screen Yorkshire".
"The area has provided a rich variety of locations and excellent local crews to ensure the budget goes on screen for audiences to enjoy."
The three-part series will be screened next Easter.