Thames Valley Police gets 25 more child abuse officers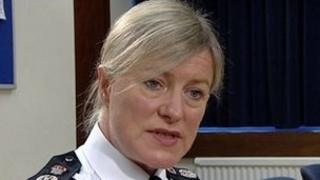 Thames Valley Police is to deploy an extra 25 officers to tackle child abuse to deal with a rise in reports.
The force has linked a 40% rise in rape cases in the past year to the abuse allegations against Jimmy Savile and the Oxford grooming trial.
Two specialist units to tackle child abuse will also be set up in Buckinghamshire and Milton Keynes.
Chief Constable Sara Thornton said the force will spend nearly £600,000 on the measures despite cuts elsewhere.
She said: "We will have police officers sitting next to members of the local authority and children's services and hopefully colleagues from health, sharing intelligence to safeguard children."
Operation Bullfinch, which led to the convictions of seven men for child sexual exploitation in Oxford earlier this year, highlighted failings by the authorities to detect child abuse early enough.
The Kingfisher Unit was set up to tackle child sexual abuse in Oxfordshire and now similar units are to be set up further afield.
Ms Thornton said, as a result of Kingfisher, the response to child sexual exploitation "has improved enormously".
"They're picking up victims much sooner. It might be that victims aren't willing or able to tell us very much to begin with, but they're building the confidence of the victims.
"Both the Savile case and of course Bullfinch in our own area has raised the awareness of the problem."