Six fresh policing ideas from past 12 months
It is almost a year since the first police and crime commissioners (PCCs) were elected in England and Wales. With a BBC survey showing that more than a third of adults were unaware whether they have a PCC or not, what fresh policies or innovative ideas have made an impact?
It was hoped that elected commissioners would make the police more accountable to the public.
But with a turnout of just over 15% for the first elections in 2012, critics have questioned the democratic legitimacy of the PCCs.
Some have also been dogged with controversy. There have been four investigations carried out by the Independent Police Complaints Commission as well as investigations by the Crown Prosecution Services into expenses claims.
But with public recognition so low, what policies have stood out?
1. Youth commissioner
It was meant to be a link between young people and the police, ensuring their views were understood and represented.
But the post of youth police and crime commissioner in Kent did not get off to a good start.
The first choice, seventeen year-old Paris Brown, who was appointed by PCC Ann Barnes with great celebration, resigned from her role after she was accused of making racist and homophobic tweets.
The appointment was described as a "fiasco" in a Home Affairs Committee report, with chairman Keith Vaz MP, saying: "We need to guard against maverick decision-making."
However, recruitment has started for a new youth PCC, with the successful candidate for the £15,000 per year role to start work in April.
Mrs Barnes said she was not looking for an "angel" but someone who was "street-savvy".
She added that the new recruit's social media history would be scrutinised.
2. Drug rooms
On the face of it, County Durham might not seem the most obvious place for a liberalisation in drug policy.
But rooms where heroin addicts could be prescribed the drug - and take it - are being advocated by the Durham PCC Ron Hogg.
He said introducing the facilities, often referred to as "shooting galleries", would help take drugs off the streets and reduce crime.
Related pilot projects have taken place in Brighton, Darlington and London.
However, the suggestion has been opposed by Public Health England (PHE), an agency of the Department of Health, and also Teesside-based drugs charity, Bridges.
Home Office minister Norman Baker said government research into drugs strategies in other countries would be completed shortly.
3. Predictive policing
It resembles a gadget from a futuristic sci-fi film - a computer that tells police officers where the next crime is going to take place.
But this has been a reality for Kent Police, using predictive policing software pioneered in Los Angeles.
The £130,000 project was approved by Kent PCC Ann Barnes, and according to Kent Police, during a four-month trial reduced street violence in Medway by 6%.
The software uses past trends and current information to identify "boxes" where there is likely to be trouble in the coming few hours.
Greater Manchester, West Midlands and West Yorkshire Police have also introduced differing versions of the technique in the past.
However, critics have pointed out that the software was only used for car theft and burglary in the US, whereas it is being used for a wide variety of crimes in England.
4. Police 'schools'
Two PCCs have viewed education, both for citizens and police officers, as important.
Hertfordshire PCC David Lloyd has mooted the idea of a "citizens' police academy" to help teach people "how and when to intervene".
And Northamptonshire PCC Adam Simmonds is setting up an academic institute for police to boost best practice in gathering evidence.
The first scheme, which involves "short, sharp, training sessions" to help prevent crimes, has received guarded praise from the Police Federation.
However - referring to the farcical Police Academy films - the federation said the name was "unfortunate".
The academic institute was announced in June, with Mr Simmonds saying it would be launched at the University of Nottingham within his first year in office.
However, the programme has been delayed with a new launch date pencilled in for February.
A spokesman said: "We were, perhaps, a little ambitious in the original time scale."
5. Drunk tanks
With policing of alcohol-related crimes and anti-social behaviour sapping time and resources, Humberside PCC Matthew Grove has raised the idea of introducing drunk tanks.
This has received support from the Association of Chief Police Officers, which said the taxpayer should not have to foot the bill for alcohol-fuelled disorder.
However, they are beyond the remit of PCCs to set up as it might need legislation from parliament.
The idea would see the drunk tanks being run by private companies who would keep hold of the drunks overnight, issue with them with a fixed penalty the following morning and charge them for their care.
But the Police Federation has said the idea is neither a viable nor long-term solution and "merely represents a sticking plaster for the problem".
6. 'Residents' IPCC'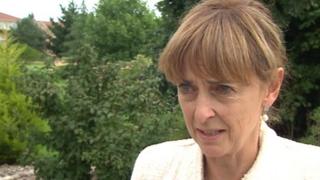 In Avon and Somerset, a group of residents meet to mull over complaints about police.
"One of the things residents have told me is they don't like the police marking their own homework," said Sue Mountstevens, PCC for Avon and Somerset.
She said her proudest achievement so far was to introduce residents' panels.
The group of volunteers are tasked with scrutinising complaints against the police. Serving and former police officers are not eligible to take part.
An independent report is produced by the panel and published on the PCC website.