Zimbabwe gold mine manager death: Family offers reward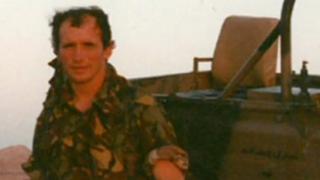 The family of a gold mine manager from Surrey has offered a $25,000 (£15,000) reward for information after he was found dead in Zimbabwe.
Robert Wood, 54, from Windlesham, was found hanged in Bulawayo in March 2012.
A pathologist in Zimbabwe concluded that Mr Wood had taken his own life.
An inquest at Woking Coroner's Court on Monday recorded an open verdict. The coroner said there was insufficient evidence to determine how Mr Wood had died.
Surrey Police said the Zimbabwean authorities had conducted an investigation into Mr Wood's death before referring the case to the Surrey Coroner's Office.
In a statement, the force said: "Officers from the Surrey and Sussex Major Crime Team have reviewed the circumstances of the death but have found no evidence to indicate any third party involvement.
"As such, no formal investigation has been conducted by Surrey Police."
Robert's brother Ian Wood, who lives in Dover, Kent, said his brother had been running a gold mine in Zimbabwe when he died, having lived in Africa for much of his life.
'Mine grab'
At the inquest, he said he had uncovered evidence that his brother's will had been forged to try and cash in on his assets.
"It's very important to find out what happened at the end of the day because we don't believe Robert committed suicide - we believe it was murder," he said.
He said the family wanted to try and get the Zimbabwean authorities to "actually do something about it".
Mr Wood said he thought his brother's death was part of a "mine grab".
"It's just greed," he said.
He said his brother was a "very positive man, very happy" who "loved life to the full"
Mr Wood said the family hoped the reward would "spur someone on" to talk about his brother's death.
Coroner Richard Travers said: "Some of what I've heard does seem very odd and indeed very suspicious", adding that much of what had been said was "mere speculation".
"There is insufficient evidence for me to determine properly how Rab came by his death," he said.