PCC Ron Hogg says Durham Police cuts 'inevitable'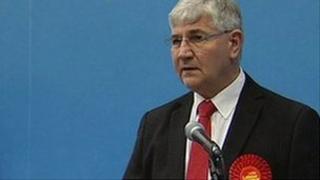 Durham's police and crime commissioner says cuts to staffing levels are "inevitable" over the next few years.
Durham Police has to make savings of £5m over the next two years, which Ron Hogg blamed on "national decisions by the coalition government".
Other measures to reduce costs include a new headquarters, aimed at saving £700,000 a year, and shared work with the fire service.
The government said staffing decisions were down to local police chiefs.
Mr Hogg said the savings were not a result of "local decisions".
"I've made it clear to the government that the depths of the cuts and the speed at which they are implicated are far too deep," he said.
"We have responded well so far but it is getting increasingly difficult to continue to deliver this high level of service.
"What we are trying to do is avoid any cuts to staff or police officers for as long as we possibly can, but I think for the next three or four years a reduction in numbers is inevitable."
The Home Office said the government had played its part in cutting red tape, but police force targets and decisions on workforce size were ultimately for crime commissioners and chief constables to make.