1,000 catalytic converters stolen from vehicles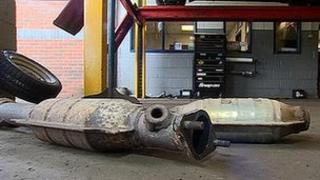 Nearly 1,000 catalytic converters have been stolen from vehicles across Devon and Cornwall over three years, police say.
Devon and Cornwall Police said 955 converters were reported stolen between April 2010 and March 2013.
The devices - which limit toxic emissions from vehicles - contain valuable metals including platinum, palladium and rhodium.
They can fetch several hundreds pounds as scrap.
Thieves can cut the converter from the exhaust pipe of a parked car, although there are cage devices which can be fitted to deter thieves.