New Slough reactor turns sewage into fertiliser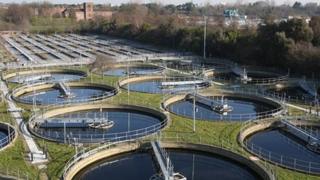 A £2m reactor that turns sewage into fertiliser has been installed by Thames Water at a plant in Berkshire.
The nutrient-recovery facility takes waste water from the Slough Trading Estate and turns the phosphorus in it into crystalline fertiliser pellets.
The company says it is the first of its kind in Europe and will save it £200,000 a year, which it will pass on to its 14 million customers.
About 150 tonnes a year of fertiliser will be produced and sold to farmers.
Phosphorus is the key ingredient in fertiliser and is usually mined in countries such as Morocco, China and the US.
Peter Melchett of the Soil Association said: "With the world's affordable mineable reserves of phosphorus set to start running out in the next 20 to 30 years, this new technology could offer a solution to securing global food supplies over the coming decades.
"Without fertilisation from phosphorus, wheat crop yields will fall by more than half.
"Meanwhile, as the planet's population is predicted to hit nine billion by 2050, demand for food will increase."
Clogged pipes
Thames Water said nutrient-recovery facilities were only suitable for certain sewage works in industrialised areas, where high-strength organic waste from businesses mean effluent entering the works is rich in struvite, a nutrient compound containing ammonia and phosphorous.
If left unchecked struvite settles as a rock-like scale on pipes at the sewage works until it clogs them completely.
Thames Water said until now it had spent £200,000 a year on chemical dosing to clear pipes of struvite at Slough, money it can now save.
The process will also improve the quality of treated effluent leaving the sewage works, reducing nutrient levels and in turn reducing algae growth in rivers and streams, which can leave little oxygen for fish and other wildlife.
Piers Clark, commercial director for Thames Water, said: "This is a classic win win.
"We are producing eco-friendly steroids for plants, while also tackling the costly problem of struvite fouling up pipes at our works."
A Thames Water spokesman said if the reactor, built by Canadian firm Ostara, proved successful, the firm would consider installing more.