Woman, 91, 'attacked' at Tipton care home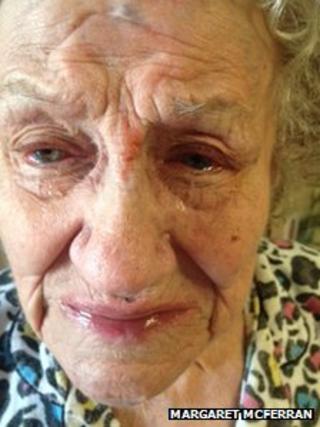 A 91-year-old woman with dementia was attacked by a male resident at their care home, her daughter says.
Margaret McFerran said Janet Tierney was in hospital after being kicked "like a football" at Bloomfield Court, Tipton, West Midlands, in September.
Ideal Care Homes, which runs the home, said it had reported "an altercation" to the "relevant authorities".
West Midlands Police said it was "investigating the alleged incident and supporting the family".
Mrs McFerran, 52, from Coleshill, Warwickshire, said her mother sustained "severe bruising" in the attack.
"Mum was adamant she had been kicked like a football," she said. "She'd been punched and she was crying uncontrollably.
"When I did see the bruises I just burst into tears. The bruising was horrendous.
"My mum's 91. Something like that could have killed her."
Mrs McFerran said the bruising was "all down her back, the left side of her bottom, all the way down to her thighs and her knees".
Mrs Tierney was taken to Russells Hall Hospital in Dudley, where she remains.
Mrs McFerran said her mother moved to the care home in Central Avenue in December last year after being in the same flat in West Bromwich since 1961.
Ideal Care Homes managing director Mark Greaves said he was aware "of a resident-to-resident altercation involving the lady in question".
'Treated extremely seriously'
"The home fully reported [it] to the relevant authorities and is being dealt with within the Safeguarding Procedures of Sandwell Council," Mr Greaves said.
"I understand that the lady has been reassessed by the home's manager and it has been determined that her needs cannot be met within this setting."
Yvonne Davies, Sandwell Council cabinet member for adult social care, said it treats "unfortunate incidents like this extremely seriously".
"Staff have spoken on many occasions to both Mrs McFerran and her mother," she said.
"The council's safeguarding team have been working for some time to find a suitable alternative home that both are happy with and that Mrs Tierney can move to."
A West Midlands Police spokeswoman said: "A woman was allegedly assaulted by another resident at the home on 24 September.
"No arrests have been made and police are investigating the alleged incident and supporting the family."