Bestival coach crash: Merseypride Travel faces public inquiry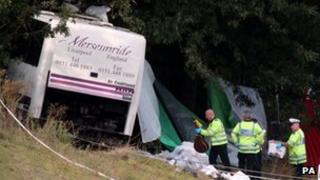 A public inquiry is to be held into a travel company after one of its coaches crashed following last year's Bestival event, killing three people.
The Merseypride Travel coach crashed after an almost 20-year-old tyre blew out on the return trip to Merseyside from the Isle of Wight.
The firm's boss Tracey Hannell was prosecuted and fined £4,300 in August.
The office for the Traffic Commissioner confirmed a public inquiry would take place on 16 December.
The 52-seater coach was full of friends who had left Merseyside for the festival five days earlier. The tyre blew out on the A3 in Surrey on 10 September.
Driver Colin Daulby, 63, and passengers Kerry Ogden, 23, and Michael Molloy, 18, were killed when the coach crashed into a fence and tree.
'Professional competence'
Mr Daulby, from Warrington, Miss Ogden, of Maghull in Liverpool, and musician Mr Molloy, from Woolton in Liverpool, died from multiple injuries.
The operator's passenger transport licence and Ms Hannell's repute and professional competence as a transport manager will be considered at the hearing at the commissioner's office in Goldborne near Warrington, the officer for the Traffic Commissioner said.
"The office of the Traffic Commissioner has been notified of convictions recorded against a partner named on the operator licence held by David Hannell and Tracey Hannell trading as Merseypride," a spokesman said.
"These offences were referred to the Traffic Commissioner for the north west of England, Beverley Bell, who determined that the matters should be examined at a public inquiry."
The commissioner has powers to curtail, suspend or revoke an operator's licence and also disqualify individuals from carrying passengers for profit.
A verdict of accidental death was recorded at the inquest held in Woking, Surrey in July.
Surrey coroner Richard Travers said the "catastrophic failure" of a tyre had caused the accident.
Ms Hannell pleaded guilty at Guildford Magistrates' Court in August to charges of allowing the use of a vehicle with a tyre with ply or cord exposed and permitting the number of passengers to exceed the number of seats on the vehicle.
She was fined £4,000 for the first charge, £300 for the second and also ordered to pay £85 costs and a £15 surcharge.