Poole to Santander ferry service starts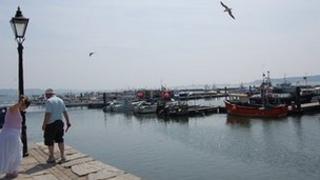 A new ferry service by LD Lines from Poole to Santander has begun, after Brittany Ferries withdrew its freight-only route to Spain.
LD Lines said the twice weekly service would have "cabins, a bar, restaurant, cinema and shops".
Visit Britain and Brittany Ferries have also announced a £1.5m campaign to attract more French visitors.
MP Mike Hancock said: "We are targeting French and Spanish visitors to come to Portsmouth."
He said: "There is the heritage area in Portsmouth, the seafront area, the Spinnaker tower, Gunwharf Quays, and we're close to attractions such as Stonehenge and the National Forest."
Visit Britain said it was a "key objective" to encourage tourists to visit places outside the major cities such as London.