Parkside mine protest: Lesley Lomas, 52, dies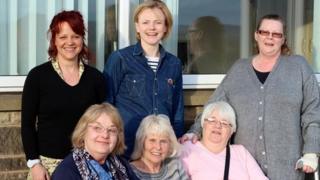 One of the women who staged a five-day sit-in down a coal mine in 1993 in protest at the planned closure of 31 pits has died.
Lesley Lomas, 52, was part of a peaceful protest held by five women at Parkside, Newton-Le-Willows.
She died on Saturday and leaves a husband Perry, who was a miner at Parkside, and three daughters.
A BBC Radio 4 drama about the protest, written by Maxine Peake, has been dedicated to her.
Mrs Lomas was the youngest of the Women Against Pit Closures group, featuring Anne Scargill, Dot Kelly and Elaine Evans.
'Ever resourceful'
The women went along to an Easter tour of the mine, as the pit held a public tour once a month. They then stayed 260ft (80m) down for four nights.
Anne Scargill, then married to miners leader Arthur Scargill, said "it was Lesley who kept us going".
She said: "Lesley used to walk the tramlines and we played I spy. Lesley said 'I spy with my little eye something beginning with D' and we kept saying 'Go on, tell us' but she wouldn't. It was debris - it took us 48 hours to get that.
"Lesley used to love to go out on the rails and get on the tannoy and talk through the mine. She kept us going."
She added: "She never got to hear the play, it's such a shame and I feel so sorry."
The four women feature in the radio drama as themselves.
Justine Potter, who produced and directed Queens of the Coal Age, said: "As they could take nothing down the mine, Lesley, ever resourceful packed her bra with wet wipes, painkillers and nicotine patches to tide them over.
"She even sacrificed her hair comb to make needles to thread makeshift sleeping bags from sacking."
She added: "The cast, crew and Women Against Pit Closures ladies are all so saddened by the news of Lesley's death. We hope the drama is a part of the story of her life and her achievements that lives on."
In 1984, before the year-long miners' strike, there were 170 working collieries in Britain, employing more than 190,000 people. Only three deep coal pits now remain in the UK.
Queens of the Coal Age, broadcast on BBC Radio 4 on Monday, can be heard here.