Crowborough Birthing Centre closure sparks protest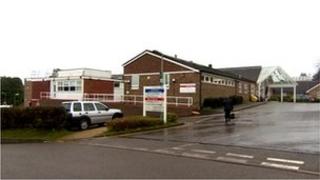 About 100 people have protested outside a maternity unit that has closed temporarily to cover staff shortages at a hospital 28 miles (45km) away.
Crowborough Birthing Centre, which is based at Crowborough Hospital, closed for four days so midwives could work at the Conquest Hospital in Hastings.
East Sussex Healthcare NHS blamed sickness and shortage of agency staff.
Campaigners have started a petition for the unit to be run by a Kent NHS trust to keep services near where they live.
The petition, signed by more than 1,700 people, said: "We are desperately trying to get the centre transferred over to the Tunbridge Wells trust to avoid being closed again.
"If we transfer over then we can have all our care in Crowborough and Pembury, rather than having to go all the way to Eastbourne or Hastings."
A spokesman for Maidstone and Tunbridge Wells NHS said it was aware of the petition "but nothing was set in stone".
The three East Sussex clinical commissioning groups issued a statement which said they were committed to ensuring a consistent and safe range of services was provided, and maternity and paediatric services, along with community hospitals, were being reviewed.
Chantal Wilson, chairman of the Friends of Crowborough Hospital, said the birthing centre would remain closed until Monday, when it will reopen for seven days, and after that "nobody seems to know".