New flood warning areas on Thames and Chertsey Bourne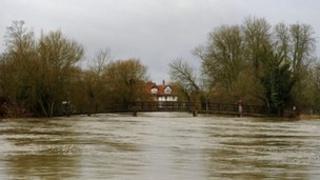 New flood warning areas have been set up along the River Thames and Chertsey Bourne to offer more detailed and specific advice to residents.
The Environment Agency has created 13 smaller flood warning areas, which it says are more relevant, in response to last year's winter flooding.
They cover moorings and homes near the Thames from Reading, Berkshire, through Buckinghamshire to Teddington, London.
New areas have also been created along the Chertsey Bourne in Surrey.
Ian Tomes, the agency's flood and costal risk manager, said: "Last winter, some residents were concerned about the relevance of the flood warnings they received.
"Now, the warnings will be better targeted at residents and their level of flood risk."
He added: "While we can't control the likelihood or frequency of extreme weather events, we can help people to be better prepared for any future event by providing the best up to date and accurate information we can."