UK Storm: All storm-hit homes have power restored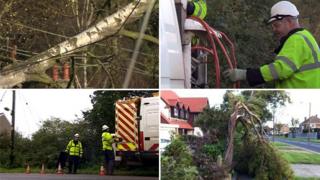 Power has been restored at all properties in the East left without electricity by Monday's 80mph (129km/h) winds, UK Power Networks said.
At the height of the storm about 300,000 in the region lost power.
The company said compensation of £54 was to be paid to customers who were without electricity for 48 hours - double the statutory payment.
A further payment of £54 would be paid for every 12 hours without power.
The money will be capped at £432.
The company said it would write to to all those eligible to receive compensation payments.
A spokeswoman said: "We believe all the power cuts which were reported to us on Monday have now been fixed.
"There may still be some isolated properties affected which we haven't been informed about, and we would appeal for anyone still off supply to let us know on 0800 7838838 - our phone lines are working well today."
Red Cross emergency help centres were set up to provide hot food and drink to those without electricity.