Delays as Didcot power station transformer moved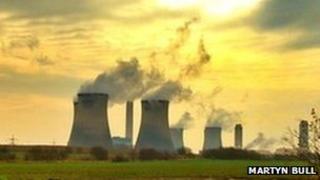 Motorists experienced slight delays as a large transformer was moved from a power station in Oxfordshire to Bristol.
The lorry and its 637-tonne load measured 294ft (89m), almost the length of a professional football pitch.
It made the journey under police escort from Didcot at 07:00 GMT on Saturday, joining the M4 at junction 14 (Hungerford) at about 17:00 GMT.
Officers had warned there was potential for congestion due to its slow speed.
Its final destination was Avonmouth Docks, from where it is being transported by sea to a Siemens plant in Germany.
The generator transformer was the first of three being removed from Didcot power station as part of its decommissioning programme.
Didcot, a coal fired power station, was disconnected from the national grid in March 2013 after 43 years of service.