Gang 'trafficked over 50 women to work as prostitutes'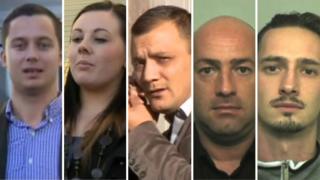 A gang smuggled woman into the UK from Eastern Europe and set them up in hotels as prostitutes, a jury at Hove Crown Court has heard.
Mate Puskas, 25, Victoria Brown, 25, Zoltan Mohacsi, 36, Istvan Toth, 34, and Peter Toth, 28, are accused of conspiracy to control prostitutes and trafficking for sexual exploitation.
They are accused of bringing more than 50 women into the UK.
All five deny the charges. The trial is expected to last for seven weeks.
'Housed in brothels'
The court was told the women were recruited in Hungary before being brought to the UK through Luton, Heathrow and Gatwick airports.
Once they were in the UK the women were chaperoned in small groups, prosecutors said.
Some of the women were put up in hotels and brothels in Eastbourne, Folkestone and Margate, the jury heard.
Others were working out of rooms in student accommodation at Sussex University, David Walbank for the prosecution said.
Mate Puskas of Billingshurst Road, Ashington, Pulborough, Victoria Brown, of Ockley Road, Bognor Regis, Zoltan Mohacsi from Cranbrook Road, London and Istvan Toth and Peter Toth, both of St John's Road, Eastbourne deny all the charges against them.
The case continues.