IRA supergrass Raymond Gilmour in 'mental health limbo'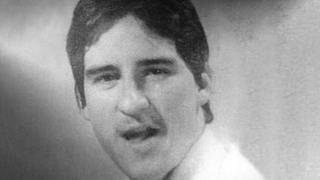 An IRA supergrass claims his mental health issues are not being treated while the NHS and MI5 fail to agree on who is responsible for his care.
Raymond Gilmour was the only witness in the trial of 35 IRA suspects which collapsed in 1984. He now lives under an assumed identity.
He has raised concerns his security could be compromised, leading his doctor to demand MI5 takes over Mr Gilmour's treatment.
Neither the NHS nor MI5 have commented.
Mr Gilmour, who is from Londonderry but now lives in England, infiltrated the IRA at the height of The Troubles in Northern Ireland.
He now suffers from a range of mental health problems including anxiety, post-traumatic stress, panic attacks, a behavioural disorder and a personality disorder.
'Cast adrift'
For the past five years, Mr Gilmour has been under the care of the NHS in the South East.
But at the beginning of October, his mental health consultant wrote a letter to the head of MI5 which said any involvement with Mr Gilmour "will be subject to risks of identity exposure".
It goes on to say a decision has been made to discharge Mr Gilmour back into the care and responsibility of MI5 to guarantee his safety, and to ensure any issues relating to his confidentiality are strictly adhered to.
The letter also says Mr Gilmour made complaints "surrounding the issue of his safety and allegations that his safety might have been compromised".
The doctor claims this added "extra pressure" on those dealing with his care.
Mr Gilmour said the security services were not helping him "in any way" and he was seen as a "burden" by the NHS.
"I've been sort of cast adrift," he said.
"There's not very many like me, I would say, in my situation. It's an impossibility... to deal with someone like me within the NHS.
He said he had not received any psychiatric help for over a year-and-a-half.
Mr Gilmour's MP claimed the security and health services were "batting the issue" back and forth between each other.
The informant said he was 17 when he joined the Irish National Liberation Army (INLA) in 1976 as a Royal Ulster Constabulary agent.
He said he then moved to the IRA in 1980 before his cover was blown two years later when police used information he supplied to recover a machine gun.
His decision to testify in the early 1980s led to the arrest of 35 republicans, however the case collapsed when the then Lord Chief Justice dismissed Mr Gilmour's evidence as being "unworthy of belief".