UK Storm: Power cut continues in Essex and Suffolk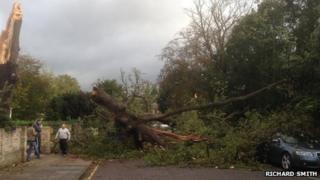 Homes in Essex and Suffolk are still without power, four days after winds of up to 80mph (129kmh) hit the east and south-east of England.
Help centres have been set up to provide hot food and drink for people without electricity since Monday's storm.
At the height of the storm, 300,000 households in the region had no power.
UK Power Networks says about 1,000 homes in Essex and just over 2,000 homes in Suffolk are still affected.
It said it had made "substantial progress" in restoring power supplies.
Staff and the British Red Cross have run centres near villages without power in Suffolk, which has been the worst affected county, it added.
More centres are due to be set up on Thursday, with a liaison officer at each to provide information on the response to the storm.
Director of customer services Matt Rudling said: "There may be a few remote properties that will take a little longer but we are now confident that we can return virtually all properties' power supplies by the end of Thursday.
"We have only been able to do this through the efforts of our outstanding workforce.
"This has been a difficult time for our customers and we thank them for the patience they have shown."
Four people died when the storm hit southern Britain on Monday.