Crowdfunding for cows: Micro-dairy founder needs herd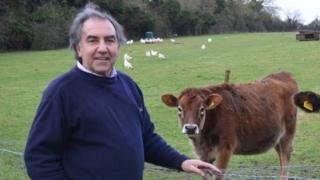 Crowdfunding has been used to kick-start a range of ventures - investors have been tapped for everything from concerts to computer games - but have you ever heard of crowdfunding for cows?
That's what is being proposed by Hampshire micro-dairy founder Nick Snelgar who is raising funds for a milking herd.
His community interest company promises £80-worth of milk a year to local people willing to loan £1,000 for a whole animal, while those living further afield will be paid interest in the form of cheese in the post.
In the US, farmers have been known to use crowdfunding to expand their businesses but, despite its growing popularity, the UK's farming community is yet to embrace it.
'Like a racehorse'
The National Farmers Union (NFU) called the move "highly unusual".
"It's a bit like owning a racehorse," said Mr Snelgar, returning from his delivery round.
"For a tenner - that buys you a cow's whisker. For a thousand, you can buy a cow."
In reality, backers will never own 'their' cow but £10 will gain them entry to an open day. Larger amounts will earn one-off consignments of milk, cow milking lessons or a chance to name the company van.
Mr Snelgar's micro-dairy has been running for four months, supplying 20 local shops, businesses and even a theatre with Maple Field Milk and he has just begun making doorstep deliveries.
But with only three cows of his own, his three-day-a-week production relies on milk from a nearby farm.
His ambition is to raise enough money for 15 cows, which would produce about 1,000 litres a week.
Before venturing into the precarious world of dairy farming, Mr Snelgar helped set up Futurefarms - a food co-operative - in his tiny village of Martin, near Fordingbridge. Its members' aim is to produce as much of their daily diet as possible from within their parish boundary.
He said: "What we were missing was a dairy farmer - they've all gone out of business."
It was then that the idea of crowdfunding for cows came about.
Emily Smith, of crowdfunding website Crowdfunder, said: "We've had lots of veg bag schemes and environmental projects but I've never heard of crowdfunding for a dairy herd.
"We used to run a site called PeopleFundIt which had a listing for Jersey Beef. They were crowdfunding to start their farm and raised £2,000.
"We are now thinking of doing a similar campaign where investors would effectively buy the meat in advance."
'More newcomers'
A spokesman for NFU South East said: "This is highly unusual and must be appealing to people who want to make ethical, transparent investments.
"We haven't come across mainstream farm businesses, or indeed would-be farmers, using crowdfunding.
"But the idea is not dissimilar to the fundraising seen in recent years by community shops - local people responded to appeals to buy shares in their village shop, to secure its future as a community asset.
"Why might this be happening? Well, we know that many new entrants struggle to make the investment necessary to start out in farming.
"While there are new entrant support schemes in Wales and in Scotland, here in England there are just a handful of charities offering limited help with training and business opportunities."
Maple Field Milk was launched in 2012, with the help of the Princes Countryside Fund, when milk prices were high on the national agenda.
A backlash against wholesale price cuts shone a light on the issue and Mr Snelgar's aim was to create an alternative market, offering farmers 38p a litre - about 7p a litre more than the price offered by some big suppliers.
"It's not a massive amount but you have got to start somewhere," he said.
"It goes from cow to consumer in 24 hours. We are on the same shelf as the other milk and it's the same price.
"It will be enough to live on if we manage to produce and sell 1,000 litres a week."
And with capacity to cope with five micro-herds, each producing 1,000 litres per week, Mr Snelgar hopes his project will encourage more newcomers to the industry.
"We are campaigners for a better life for the farmer and want to encourage other people to go into it," he said.