Tata Steel cuts 500 jobs in Scunthorpe, Workington and Teesside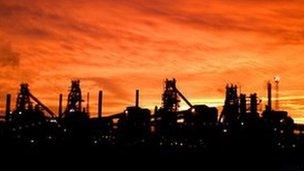 Nearly 500 jobs are to be cut by Tata Steel at its plants in Scunthorpe, Workington and Teesside, the company has confirmed.
The planned cuts have been blamed on prolonged weak demand in the construction industry.
About 340 jobs could be affected in Scunthorpe, 90 in Workington and 40 in Teesside.
The company said the cuts would mainly affect management and administrative roles.
A Tata director, Jon Bolton, said the company had been forced to remove "support costs" from the business due to the drop in demand for steel.
He said: "If you take just the construction sector, which is the market we supply mostly, that's reduced by 50% since the peak in 2007.
"We see that level not recovering for at least another 10 years."
Mr Bolton said the company would work with staff and unions during the restructuring to support employees.
Sean Scorer from the Community Union said the announcement was a "shocking blow to Scunthorpe and the people who work here and the associated steel community".
Mr Scorer said the union would oppose compulsory redundancies, but would work with the management on the restructuring as long as it led to a long-term future for the business.
He called on all political parties to commit to more infrastructure spending to provide a future for steel making in the UK.
He said: "If you want to have an industrial heartland and industrial future for the UK then you need to start investing in this industry."
Related Internet Links
The BBC is not responsible for the content of external sites.