WW2 'bible' sees military service in Afghanistan after 70 years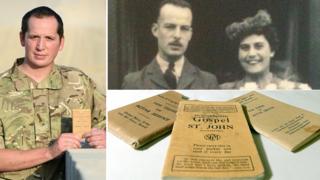 A military "bible" which has seen two generations of army and RAF policemen through armed conflicts is being returned to its elderly Cambridge owner in time for a family memorial service.
It was issued first to Cpl Alfred Collins in 1941, an RAF policeman in the UK and Norway during WW2.
Mr Collins, 95, asked his grandson Cpl David Coles, 31, to carry it with him during a six-month tour of Afghanistan.
The bible will now be used in a service to commemorate Mr Collins's wife Mary.
Mr Collins's military bible consists of an illustrated version of the Gospel of St John and a hymn book which were issued by the Baptist and Congregational Churches.
Cpl Coles, a member of 156 Provost Company, Military Police, based in Colchester, said: "My grandfather has a strong faith and wanted me to take his service bible with him."
He carried it with him everywhere, his grandson said.
'Treasured possession'
Feargus Read, from the Imperial War Museum London, said military bibles were common during World War One and World War Two.
"They were not standard issue, but most likely funded by various churches and issued by military chaplains of various denominations to service personnel who requested one.
"There are many stories of soldiers being saved from bullets by their bibles, because of course they would have kept them in their breast pockets, close to their heart."
Cpl Coles carried his grandfather's gospel in his body armour.
"I kept it in a special pouch in my day sack. I've tried not to carry it too much to avoid damaging or losing it," he said.
During his tour, Cpl Coles took the gospel to one of the chapels in Camp Bastion where it was blessed by Padre Martin Sheldon.
"For [my grandfather] religion is very, very important indeed so this will mean a great deal to him," Cpl Coles said.
He returned to his Colchester barracks earlier this week, and next week will visit his grandfather and return the gospel to him.
"He'll be chuffed to bits that I've managed to keep this in one piece here in Afghanistan and bring it back to him in one piece," Cpl Coles said.
"I have kept excellent care of it, because it's a treasured possession of his."
The gospel will then be used during a service to remember the life of Mr Collins's late wife, Mary, to whom he was married for 68 years.