Cat and Fiddle: Peaks route still Britain's 'most dangerous'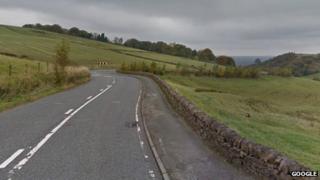 A Peak District road has once again been named Britain's most dangerous, despite efforts to combat drivers' "racetrack mentality" on the route.
The A537 between Macclesfield, Cheshire, and Buxton, Derbyshire, known locally as The Cat and Fiddle, features severe bends and steep drops.
The Road Safety Foundation charity report compared accident rates with the amount of traffic using the road.
It also found many of the crashes involved motorcyclists.
The reports began in 2002 and since then the A537 has been top in eight out of 12 reports.
There were 44 serious or fatal crashes on the seven-mile (12km) stretch of road between 2007 and 2011. Between 2002 and 2006, there were 35.
'Grim reputation'
The Foundation said the government should spend more money to improve safety on the roads but the attitude of motorists also needed to change.
Dr Steve Lawson, acting director at the charity, said: "A lot has been done to remove the racetrack mentality and target resources to tackle anti-social and illegal use of the road."
However, he added one possible reason why the accident figures had not fallen was because "there may also be an element of risk compensation among some road users, where risk taking has increased as the road has been improved."
Some road safety experts have said the route's "grim reputation" is also part of the problem.
Lee Murphy, from Cheshire Safer Roads Partnership, said: "The Cat and Fiddle does have a bit of a challenge mentality and a minority do try to ride it as fast as they can."
However, Dr Lawson said a lot of work has been done on speed reduction and enforcement and on road surfacing at critical bends.
Motorcycle friendly crash barriers have also been installed on one of the worst affected parts of the route.
Buxton mechanic Gary Ward, who recovers many of the vehicles after accidents on the road, said: "Many of the crashes involve motorcyclists going too fast."
Mr Ward, who says he is called out about three times a week, said the problem was made worse by the lack of run offs.
He said: "They often end up going down grass banking or hitting a wall - sometimes people do get away with scratches and bruises but most the time they are seriously injured. If they are going over 50 mph it can be pretty bad for a biker."
He added that cars going too fast on the route also accounted for many of the accidents.
"Many need cutting from their vehicles by the fire brigade after leaving the road," he said.
"If they've been taken off in the air ambulance you know something bad has happened."