Fallen trees cause damage in West Country storm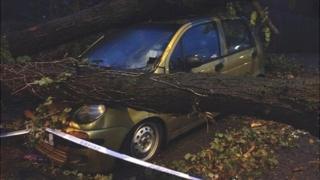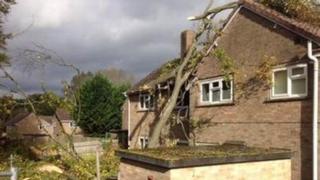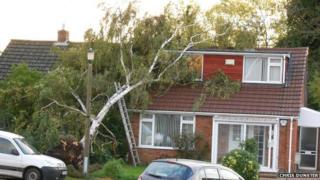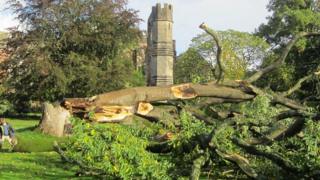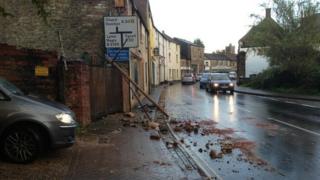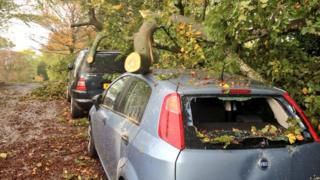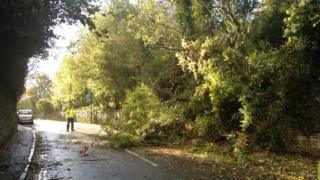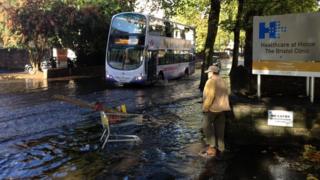 Roads were blocked, cars crushed and roofs damaged as the west of England was hit by storm-force winds.
In the garrison town of Bulford in Wiltshire, a tree came down on to the roof of a Ministry of Defence house.
Trains between Bath and Salisbury, Gloucester and Cardiff and Somerset to London were disrupted. About 3,000 homes are without power in Wiltshire.
In Gloucestershire, the fire service said several properties had flooded in Quedgeley.
Western Power said most of the electricity problems were in Devon but about 250 properties remain without power in the Crewkerne and Taunton areas of Somerset.
Southern Electric said there had been significant damage to the power network and about 3,000 properties were without power across Wiltshire including parts of Trowbridge, Westbury, Devizes and Salisbury.
A spokesman said they 1,000 engineers had been out fixing problems but could not promise power would be restored to all properties by tonight.
Trees down
At the Bishop's Palace in Wells, Somerset, the 128-year-old Tree of Heaven was brought down in the high winds of the St Jude's Day storm.
Head Gardener James Cross said: "It's incredible to see how the base of the trunk has snapped.
"We've got a good view of a hollow interior and some rotten sections so we're feeling relieved no-one was in the area at the time."
Once the debris has been cleared up a semi-mature Tree of Heaven will be planted to replace it but it will take about 100 more years for it to grow to the same size.
Somerset County Council said its teams had cleared 48 trees and big branches from roads throughout the morning.
In Wiltshire, a large tree fell in Kings Road, Easterton, near Devizes, damaging a building next to St Barnabas Church and blocking the road.
Wiltshire Council's road team said via Twitter that it had cleared more than 120 trees from the county's roads by 11:30 GMT.
Meanwhile, two lorries collided on the M4 near Swindon blocking two lanes of the motorway on the eastbound carriageway near junction 16.
Rail services across the whole region were affected with South West Trains alone saying 26 fallen trees had caused line blockages across its network.
Avon and Somerset Police said a motorist died on the A38 at Monkton Elm near Taunton but were unable to say if the accident was storm-related.