Rare 1961 E-Type Jaguar sells for £88,000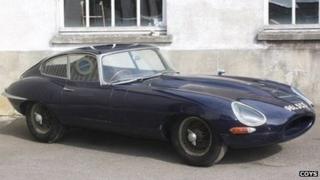 A rare E-Type Jaguar which went missing for decades has sold at auction for more than £88,000.
The car was the 40th right-hand drive coupe to roll off the Jaguar production line in Coventry in 1961.
An anonymous buyer from the south of England bought the car on Saturday afternoon for a total of £88,040, the Ascot-based Coys auction house said.
Estimates put the car's value at £20,000 to £40,000 but auctioneers had said it could go for up to £100,000.
The auction house said the buyer had bought the car for his own private collection but did not know yet whether he would restore it.
A Coys spokesman said there had been international interest in the Jaguar, which had been stored in a "dusty, derelict" farm in Le Mans, France, until it was found last month.
Auctioneers said the car, bought in 1969 and taken to France in 1974, was in need of some restoration but was mainly in good condition.