Injury puts 'Tony the Fridge' running plans on ice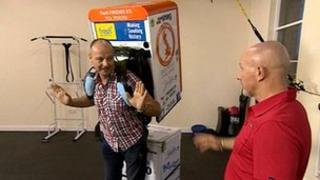 When Tony Morrison stands on the scales in his running gear he can add another 42kg to the number staring up at him.
That's the extra weight he straps to his back and which transforms him into his alter ego, 'Tony the Fridge'.
I have met some driven people in my time, but Tony is right up there.
He's certainly a fit guy - he even has his own personal gym, but you need mental strength as well as physical toughness to achieve all he has.
However it's a fine line between ambition and obsession. Meeting Tony it's hard to work out which it is with him.
Carrying a burden
I can imagine that the thrill of having thousands of people cheer you on and the pleasure at handing over cheques for tens of thousands of pounds to the Sir Bobby Robson foundation is unbelievably rewarding, if not a touch addictive.
You don't have to look far for a motive. Tony has seen the impact of cancer on his family and friends.
Strapping the fridge to his back is a real and metaphorical burden that he wants to carry. It's his way of helping to fight the disease.
Running has been part of his life since boyhood.
It started when at the age of 12 he lost his dad in a car accident.
He would just up and go.
Tough physical test
An MRI scan has revealed he's picked up a serious injury.
Bizarrely it wasn't the fridge that was to blame.
He stepped off a road edge in the dark whilst running from John O'Groats to Land's End.
He and the fridge tumbled to the ground and he knocked himself out.
That was in Scotland and despite being in pain he continued his run all the way to the southern coast of Britain.
Only once he'd completed his task, and after doing the Great North Run less than a week later, did he get a proper health check done.
Future plans
Amazingly his spine was alright but he had fractured his upper leg.
Although he's banned from running, even without a fridge, he has no plans to stop.
When he's back to full fitness he plans to climb Kilimanjaro and even walk the Great Wall of China with his trusty, cool accessory.
Bonkers? That's for you to decide.
Comedy out-take
Tony Morrison is serious about what he does, but to show you he has a lighter side here is an outtake or two from our interview.
He really does laugh in the face of pain!
You can watch the film about 'Tony the Fridge' on Inside Out at 19:30 GMT on Monday, 28 October 2013 on BBC One in the North East & Cumbria and for seven days on the BBC iPlayer