Bid to block A14 Cambridge toll funding fails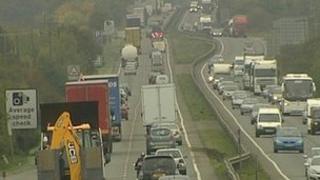 Labour politicians have failed to persuade a council in Suffolk to cancel a £1m contribution to the new A14 toll road project in Cambridgeshire.
Conservative-run Suffolk County Council has pledged the money to help build the £1.5bn road south of Huntingdon.
The council's Labour group said a toll would be bad for businesses in Suffolk.
The Conservatives said the financial support was "essential" but agreed to work with businesses to pressurise the government to drop the toll element.
The government's proposal is to charge £1-£1.50 for cars and £2-£3 for lorries on the new stretch to help fund a section connecting Cambridge to the A1.
The road runs from the Port of Felixstowe in Suffolk to the M6 in Northamptonshire.