George Clooney's The Monuments Men uses Suffolk replica Spitfire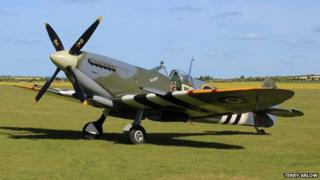 A replica Spitfire, which has been built over 20 years by a man in Suffolk, has been used in a new film directed by George Clooney.
The Monuments Men, which stars Clooney, Matt Damon and John Goodman, has been partly filmed at Imperial War Museum Duxford in Cambridgeshire.
Terry Arlow, from Beccles, used aluminium to build the replica Mark 9 plane between 1990 and 2010.
The plane does not have an engine so was filmed in a stationary position.
Mr Arlow said: "The wheels, undercarriage and tyres are original, so 70% of the plane has had Second World War action, while all the framework and riveting has been made from scratch."
He said he spent much of the 1980s designing the plane before it was built at workshops at Beccles Airfield, Norwich Airport and other places.
Mr Arlow spent two days at Duxford during the filming.
"You get to see everything surrounding a movie, so that's very enjoyable, but there was a lot of hanging around as well," he said.
The replica was filmed alongside three or four real Spitfires.
The film, which is about a US team put together to rescue works of art from the Nazis, is due out in Britain in January.