First Great Western cleaners stage second walkout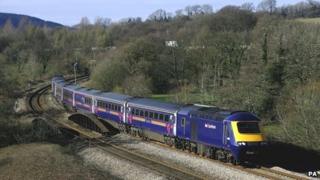 Cleaners for train operator First Great Western (FGW) have started their second 24-hour walkout in a dispute over a 2% pay offer and zero-hour contracts.
Railway Maritime and Transport (RMT) union members, employed by sub-contractor MITIE, are on strike until 05:59 BST Saturday.
MITIE said passengers should not see any disruption and it is working to reach agreement with the union.
Separately, drivers, guards and staff at FGW are being balloted on action.
That dispute is over the use of agency staff and unfair dismissal claims.
'Guts and determination'
Cleaners employed by MITIE claim to be FGW's lowest-paid workers and earlier this year rejected an offer of a 2% wage rise.
The RMT said MITIE can afford an improved offer after making pre-tax 2012/13 profits of £58.8m.
General secretary Bob Crow said: "As it emerges that the MITIE boardroom is awash with cash made off the back of the low-paid workforce there is no doubt that both staff and public anger will be raised to new heights.
"[Our] members... have shown guts and determination throughout this long fight for workplace and pay justice."
In a statement, MITIE said: "We hope to reach an agreement with the union but have full contingency plans in place to ensure no disruption to passengers travelling in the event of a strike."
A FGW spokesman said the strike should not impact services and it was a matter for MITIE.
FGW operates trains across the Western region, carrying 1.5m passengers every week on 9,000 services and calling at 276 stations.