Look North names Amy Garcia as new presenter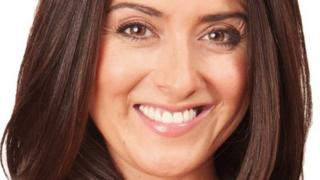 The new co-presenter of BBC Look North in Yorkshire has been named as Amy Garcia.
Born and bred in Wakefield, the 32-year-old will co-present the programme with Harry Gration from 25 November.
She joined Look North as a broadcast journalist four years ago before moving to BBC South Today in 2012. She also presents BBC Three's 60 Seconds news.
Her appointment follows the dismissal of Christa Ackroyd in July for what the BBC described as a breach of contract.
Currently on maternity leave after the birth of her first child, Garcia will be moving back to Yorkshire, where she still has strong family ties, with her husband and new baby.
'Natural warmth'
She said: "I am absolutely thrilled to be returning to the North and can't wait to share the sofa with the Yorkshire legend that is Harry Gration."
Like Gration and Look North weather presenter Paul Hudson, Garcia grew up in Yorkshire.
She attended Kettlethorpe High School and Wakefield College before moving to London as a 19-year-old for her first job in children's TV.
She spent four years in the children's genre, cutting her teeth on live TV programmes on CBBC, CITV and the Disney channel. She then worked for Sky for a period, before studying for her MA in television Journalism, for which she achieved a distinction.
The head of BBC Yorkshire Helen Thomas said: "Amy will be a huge asset to our team of first class journalists on Look North. Her natural warmth and empathy, combined with her track record in TV news, really shone out for us.
"We're looking forward to Amy working with Harry, Paul and the rest of the team, and I'm very proud to have an all-Yorkshire presentation line-up."