Thousands claim compensation after Southeastern rail delays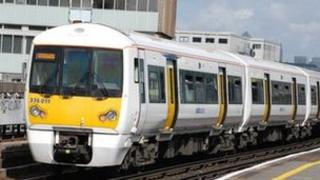 More than 8,000 people have submitted claims for compensation to Southeastern after rail engineering work overran on Monday causing severe disruption.
Network Rail had been due to finish the work near London Bridge in the early hours but said "mechanical failure and unforeseen challenges" led to delays.
Southeastern said the finish time for the work kept slipping which made providing information very difficult.
It said customers had 28 days to submit claims and it was urging them to do so.
The company, which runs services into London from Kent and East Sussex, said the compensation would depend on the cost of the ticket and the length of delay.
'Lack of communication'
A spokesman for Network Rail apologised for the disruption, which continued into Tuesday.
He said: "Despite a detailed timetable of work to hand back on time on Monday, a mechanical failure and unforeseen challenges to complete the job meant this wasn't possible.
"To complete the track renewal, further work was planned for Monday and Tuesday night and the railway reopened on Wednesday."
Network Rail, which maintains the rail networks, added that its track renewal programme in Kent and Sussex had now been temporarily suspended pending a full review.
The spokesman continued: "We are not satisfied with the level of service provided and the impact this had on passenger journeys and are determined to improve this."
'Rapidly changing situation'
Gareth Johnson, the Conservative MP for Dartford, said the problem had been the lack of communication from Southeastern.
He said a number of his constituents had told him they had sat on a train at Lewisham for "an inordinate amount of time" and they had not been told of problems further down the line while at Dartford station.
Mr Johnson said: "It's letting people know about those problems where Southeastern always fall down."
In a statement, Southeastern apologised to passengers and said it had been "a rapidly changing situation" as the finish time for Network Rail's work "kept slipping", which had made providing advance warning about the problems very difficult.
"As a result Europe's busiest railway only had half the normal lines available which meant very long journeys for our passengers," it said.