Loughborough teenager admits possessing explosives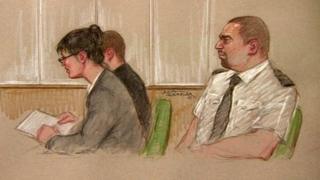 A teenager accused of preparing a terrorist attack has pleaded guilty to possessing explosives.
The 17-year-old, from Loughborough, who cannot be named for legal reasons, admitted having component parts for improvised explosive devices (IEDs).
The defendant had already admitted two other explosives charges relating to petrol bombs and pipe bombs.
He denies a charge of possessing items for the purpose, preparation and instigation of an act of terrorism.
The boy, who has Asperger's syndrome, also denies one count of possessing a document or record containing information likely to be useful for a person committing or preparing an act of terrorism.
The court heard earlier in the trial that the defendant wrote in a Che Guevara notebook covered with swastikas of his plan for The New Columbine.
The boy, who was 16 at the time, also allegedly listed targets in Leicestershire, including a mosque, college, cinema and university.
The trial continues.