Norfolk and Suffolk county councils may share services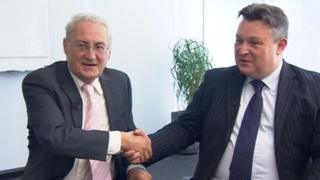 The leaders of two county councils have held talks that could lead to the authorities sharing some services.
Norfolk and Suffolk county councils both confirmed their respective leaders George Nobbs and Mark Bee had met to discuss closer working.
Both councils stressed that talks were at an early stage and there were no firm proposals, but Mr Nobbs admitted future job losses were a possibility.
Unison said it was concerned jobs could eventually be at risk.
Both authorities have to make cuts from their budgets.
Norfolk must save £189m over the next three years and Suffolk needs to cut £156m from its budget over the next four years.
Mr Bee, a Conservative, said: "We see that there are great savings that we can make in working together, but we are very much in the early days of this.
"We want to be looking at ways in which we can share facilities and share practices of working together.
"It's important we do that because clearly the economies of scale between two counties working together are always going to be greater than perhaps districts and boroughs working with counties, as valuable as that is."
Mr Nobbs, of Labour, said: "This was the first thing I wanted to do when I became leader. Perhaps it's because Norfolk and Suffolk, although different counties, are part of one East Anglian whole.
"If Norfolk and Suffolk can't work together, no counties in England can."
'Could be worse'
He stressed no merger was proposed.
"We have two different leaders, two different cabinets and two different councils and that stays the same," Mr Nobbs said.
Possible savings could include contracts, he said, and sharing some officers between authorities.
Asked if jobs could be lost, he said: "They may be, but I think things would be far worse if we weren't working together."
Jonathan Dunning, Norfolk County branch secretary for Unison, said: "If it's motivated by a desire for efficiency and savings, jobs eventually could be at risk.
"We understand the motive for the talks that are taking place and the logic for that.
"We have got concerns until we see some more detail. We expect proper and public consultation to take place."