MP suggests improvements to Southeastern's service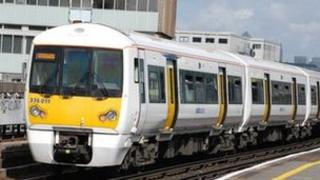 Discounts for off-peak commuters and more carriages to ease congestion should be part of Southeastern's new franchise, according to a Kent MP.
Greg Clark has written to the company outlining a 10-point improvement plan for the service, which also includes season tickets for part-time workers.
A public consultation on Southeastern's new four-year franchise, which begins in November 2014, ended on Tuesday.
The company said all responses had been sent to the Department for Transport.
Nearly 200 stakeholders and more than 100 passengers responded.
'Cost and reliability'
Southeastern runs services into London from Kent and East Sussex.
In a statement, it said it would look at implementing some of the suggestions "as soon as possible".
"Southeastern continually aims to improve the service it provides to passengers and the local communities it serves," it added.
Mr Clark, the Conservative MP for Tunbridge Wells, has been liaising with the borough's Rail Travellers Association on what passengers would like to see as part of the extended contract.
Chairman Bob Baker said "cost, reliability and passenger experience" were necessities.