Ibrahim Youseuf murder: Killer named as Valerijs Grigorjevs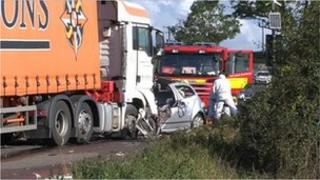 A man who died in a car crash after murdering a car wash owner a few hours earlier has been named as 27-year-old Valerijs Grigorjevs.
Ibrahim Youseuf, 42, was found dead at a flat in Gloucester Road in Boscombe, Bournemouth, on 11 October.
Dorset Police said forensic evidence linked his death to a crash on the A350 in Trowbridge, Wiltshire, on the same day, in which Mr Grigorjevs died.
Detectives said the men, both from Bournemouth, were known to each other.
Post-mortem tests showed Mr Youseuf, who owned the Five Star Car Wash in Gloucester Road, died from stab wounds and head injuries.
Police confirmed an argument took place in the flat on Thursday evening, during which Mr Grigorjevs attacked Mr Youseuf.
They believe Mr Grigorjevs killed him. They confirmed they were not looking for anyone else in connection with the death.
An inquest into the death of Mr Grigorjevs has been opened and adjourned.
It heard he died from multiple injuries he suffered in the collision with a lorry on the morning of 11 October.