Kalan Fletcher death: Appeal on second anniversary of hit-and-run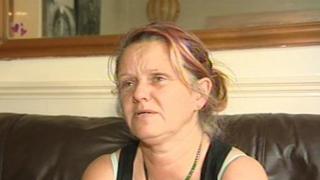 The mother of a man who died in a hit-and-run has appealed to the driver to hand himself in on the second anniversary of her son's death.
Kalan Fletcher, 23, was found lying in the A273 London Road in Hassocks, West Sussex, on 22 October, 2011.
His mother Stella Hawker, from Margate, Kent, said since his death she had not been functioning like she used to.
Police believe the van that hit Mr Fletcher was being driven by Imran Shaukat, 27, from Worthing.
Mr Fletcher had been walking down the road after a night out when he was hit.
Mr Fletcher's family have planted a rose bush in his memory. They said time had not dulled their pain.
Ms Hawker said: "I would say [to Mr Shaukat] please hand yourself in and give us some peace, give Kalan some peace.
"...It is quite hard knowing that he's not going to come back, knowing I'm not going to get a phone call or a silly little Facebook message or something like that."
Mr Shaukat, who is a Pakistani national, is thought to have returned home to Worthing following the crash and then travelled to Luton and London a few days later. Officers now think he may be in Pakistan.
Sussex Police said the case would be kept open until there was justice for the family.