Halloween zombie bus advert investigated by ASA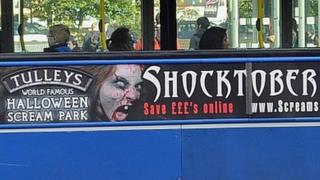 Bus adverts which feature the face of a zombie splattered with blood are being investigated by the advertising watchdog, following complaints.
The Advertising Standards Authority (ASA) said it had received three complaints about the banner promoting Shocktober in Crawley, West Sussex.
Tulleys Farm in Turners Hill hosts the annual Halloween attraction which features haunted houses and rides.
Stuart Beare from the farm said they did not intend to offend anyone.
"The image of the zombie girl on our advertising is no worse than many images you'll see at this time of year in newspapers and magazines, on the Halloween costumes in the supermarket aisles and even on kids' TV programmes," Mr Beare said.
"We are waiting for the Advertising Standards Authority to come back to us with their judgment to see if we have to take the ads off the buses."
A spokeswoman for the ASA said: "We had complaints about the same ad last year, and we did not find that there were grounds for an investigation.
"While it's possible the outcome will be the same this time, we will thoroughly assess each complaint we receive at this point until a decision has been made."
The advert can be seen on more than 100 buses operating in Crawley, Croydon and Kingston upon Thames in London, Redhill and Reigate in Surrey and Tunbridge Wells in Kent.