Cowes Week yacht crash was 'rabbits in headlights' moment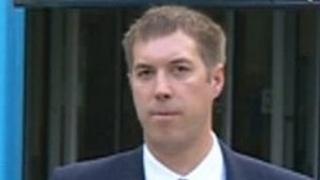 The navigator of a racing yacht has described a "rabbits in headlights" moment as the vessel crashed with a tanker in the Solent.
Former Royal Naval Commander Michael Shrives was on board the Atalanta of Chester during Cowes Week 2011 when it collided with the Hanne Knutsen.
The yacht's owner and skipper Roland Wilson, 32, of Stanley, Perthshire, denies breaking maritime regulations.
He is accused of negligence by sailing too close to the 120,000-ton vessel.
'Too late'
Mr Shrives, who is general secretary of the Royal Naval Sailing Association, told Southampton Magistrates' Court the Atalanta had seen the tanker and had expected to pass safely port-to-port, some distance away.
He said the yacht, which had been travelling at about seven knots, "suddenly stopped", possibly due to a change of wind.
"By that stage our expectation that we would have been 200 metres further on, therefore out of the danger zone, had not occurred. Really, it was almost like rabbits in headlights. At that stage it was too late," Mr Shrives said.
He said the crew had expected the tanker to turn starboard as it made its way to Fawley oil refinery.
The court previously heard a motor vessel, the Joy C, had suffered engine failure to the tanker's starboard, forcing the Hanne Knutsen to change its course.
Mr Shrives said: "We were trying to avoid the patrol boat and the motor boat, and there was sort of surprise that the Hanne Knutsen had continued on her track because she had indicated she was going to starboard."
'Carnage on board'
Simon Lusty, marine officer on the pilot boat Spitfire, which was assisting the Hanne Knutsen, said: "I told the skipper at the helm that he needed to start his engines and clear the area, there's a tanker coming down.
"It hadn't occurred to me that it would have carried on that track, having spoken to it.
"When I first saw the yacht it could have done anything it wanted to, apart from what it did - it could have gone east, west, north."
He described how he saw the yacht became dismasted as it collided with the tanker.
He said: "There was some carnage on board, there was a chap with a head injury.
"It came on the radio that someone had gone in the water but within seconds it came on he had gone down the starboard side and had been picked up.
"The lifeboat turned up in moments."
Mr Wilson denies failing to keep a proper lookout and two counts of impeding the passage of a tanker.
The trial continues.