Godfrey Bloom unrepentant as autobiography launches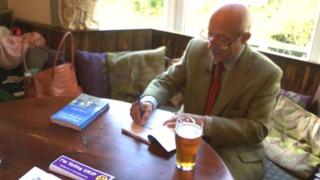 Yorkshire politician Godfrey Bloom has revealed he was ordered by UKIP's leaders to postpone the planned launch of his autobiography on the eve of the party conference a month ago as they thought it so controversial it would overshadow the event.
As it turned out the 63-year-old maverick MEP did not need his book, entitled Guinea A Minute, to do exactly that.
A recording from the conference emerged of him joking that a group of UKIP women who did not clean behind their fridges were "sluts".
In the weeks since then he has hurriedly added a new chapter to the original manuscript attempting to explain recent events which left him defending himself against allegations of racism and sexism.
The chapter, "Bongos, Boobs & Sluts", probably does just as much to reinforce the views of those that accuse him of blindly refusing to accept that his views are several decades behind the times and cause offence to many.
Even his famously "anti-political correctness" party have had enough.
Stripper photos
Suspension followed his antics at the conference in September and within a few days he had no alternative but to announce that he would not stand for re-election at next year's polls and intends to spend the months until then sitting as an independent Euro MP for the Yorkshire and Humber region.
At a launch party at a pub in East Yorkshire even a cursory flip through a copy of his autobiography explained that the "boobs" in his additional chapter's title was not a reference to any mistakes he might have made by his behaviour.
Selections from his personal photo album included a prominent picture of him with his face between the naked breasts of a stripper.
It had been taken more than 30 years ago as the then bachelor celebrated his forthcoming nuptials with a bawdy stag night at a "gentleman's club".
In his book, Godfrey Bloom makes it absolutely clear he sees nothing wrong with his behaviour then or now.
TV offers
For leaders of a party trying desperately to shrug off an image of being run by ageing dinosaurs desperately trying to tap into mainstream electoral support it was yet another disastrous headline waiting to happen.
It is no surprise that he concludes in his book: "I already knew my days with the party must be numbered."
So what now for Godfrey Bloom? At the launch party he told me he had turned down approaches to appear on "Strictly Come Dancing" and "I'm a Celebrity..."
But his wife did reveal that he has been known to cut quite a figure on the dance floor.
"But who knows what might happen in the next six months or so," he told me as he stood, pint in hand, surrounded by UKIP party faithful who were buying multiple signed copies of his book.
Godfrey Bloom's autobiography 'Guinea A Minute' is published by Grosvenor House Publishing.