Hillsborough CPS chief delegates West Midlands Police decisions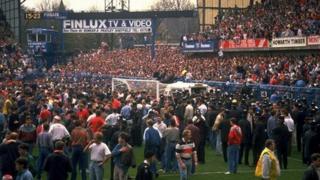 The Crown Prosecution Service's chief has delegated some Hillsborough inquiry decisions in order to avoid a potential conflict of interest.
The CPS is assessing whether West Midlands Police should face action over its inquiry into the original South Yorkshire Police investigation.
Peter Lewis said he would delegate the decision as he used to work as a prosecutor in the West Midlands.
Ninety-six Liverpool fans died as a result of the 1989 stadium disaster.
They died following a crush in the Sheffield stadium's stands during an FA Cup semi-final against Nottingham Forest.
Damning report
A CPS spokesman said: "Although no conflict of interest has been identified, out of an abundance of caution, Peter Lewis has decided to recuse himself from decisions involving West Midlands Police.
"He will remain the overall decision maker for the vast majority of work arising from these investigations.
"Where he is not involved, the decision maker will be Sue Hemming, the Head of Special Crime and Counter Terrorism."
Two police inquiries are taking place alongside fresh inquests, which will be held in Warrington in March.
Operation Resolve, led by former Durham Chief Constable Jon Stoddart, is investigating whether the fans were unlawfully killed, while the Independent Police Complaints Commission (IPCC) is investigating the conduct of police in the aftermath of the disaster.
They follow the damning report by the Hillsborough Independent Panel published last September.
The report concluded the lives of 41 fans could have been saved and cleared supporters of any wrongdoing or blame for the disaster.
It found South Yorkshire Police had altered more than 200 statements and tried to blame fans.
Deborah Glass, deputy chair of the IPCC, said the report raised "serious questions" about the work of the West Midlands force when it was appointed to gather evidence about the original investigation.