A14 toll plan: Alternative routes 'will create rat-runs'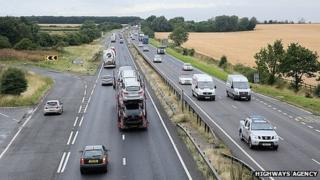 Opponents of a proposed new toll road in Cambridgeshire claim it will take traffic off the A14 and create rat-runs elsewhere.
Under government plans, traffic on the currently congested A14 between Huntingdon and Cambridge would pay a toll on a new £1.5bn re-routed section.
Villagers claim it would mean lorries creating congestion on the A1123.
The Department for Transport said it was inappropriate to comment during the current consultation process.
The new tolled section of the A14 would head south of Huntingdon connecting Cambridge and the A1.
'A disaster'
John Howells, tolls spokesperson from the Road Haulage Association, said: "It is very important that we see the A14 improved, but we don't want it tolled.
"It will be a disaster to go along with the toll as it will move traffic off the A14."
The estimated tolls would be up to £2 for cars and up to £3 for lorries.
The existing A14 section, including the Huntingdon viaduct, would be closed so that if traffic did not want to use the new tolled section, it could use two alternative routes designated by the Highways Agency.
One of the routes is via the A428 and St Neots. The other would use the A1123 through St Ives and north of Huntingdon.
Trucker Billy Angus, who makes regular trips from the container port at Felixstowe at the eastern end of the A14 in Suffolk, described what the journey would be like on the A1123.
He said: "It is going to be a nightmare as we have come off the A14 and just gone round three roundabouts and the one going to Tesco is just going to be crowded out.
"We really don't want these 44 tonne vehicles going through town centres."
Tolls 'only fair'
Alastair Price, who lives on the A1123 route in Houghton, said: "If the hauliers move on to this road, it is going to be completely congested and houses here will be blighted.
"We had a major road incident on the A14 recently. All the roads were clogged and traffic was not moving - not just on the A1123 but the B-roads - and that will happen every day if the toll road goes ahead."
A Department for Transport spokesperson said: "The department is holding a consultation into the next steps for the A14 and therefore it would be inappropriate to comment at this time.
"As the government has made clear, it is only fair in the current climate that such a large share of the national budget is balanced with contributions from those who will benefit from improvements to the A14.
"The level of tolling would be more than offset by the business benefits of more reliable and reduced journey times."
Inside Out will look at the A14 toll road on BBC1 East at 19:30 BST on Monday, 21 October