Whitchurch Bridge closure over River Thames 'has hit trade'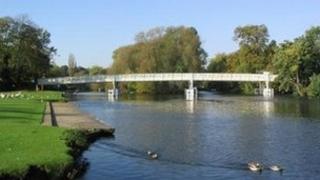 Some businesses say trade is down by a third after a toll bridge over the River Thames between Berkshire and Oxfordshire was closed for repairs.
Traders near Grade II-listed Whitchurch Bridge, between Whitchurch-on-Thames and Pangbourne, have blamed the drop on the lack of passing traffic.
Campaigners in Pangbourne want road closure signs changed to make it clear the village is "open for business".
West Berkshire Council said it would look at changing the wording.
Pamela Bale, the authority's executive member for highways, said she had written to local businesses asking for their views.
'Tap turned off'
The private toll bridge, built in 1902, closed earlier this month while repair work was carried out.
Graham Dednum, who runs a pub and restaurant in Whitchurch-on-Thames, said he had expected the drop in trade to be about 20%.
"It's a bit of a shock in fairness when the 'tap gets turned off' and you get nobody coming through your front door," he said.
The metal structure usually carries 6,000 vehicles a day but had started to corrode and rust, according to its owners the Whitchurch Bridge Company.
It will remain closed during the £4.3m reconstruction and is expected to reopen on 14 April next year.