Gatwick 'confident' new runway will be shortlisted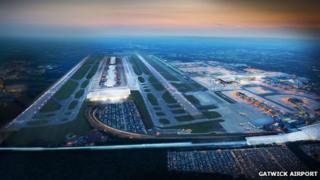 The boss of Gatwick airport has said he is "absolutely confident" a second runway will be one of the options put forward to increase airport capacity.
Chief executive Stewart Wingate said he would resign if his airport fails to make the government's shortlist.
A new runway to the south of the existing airport is among submissions being considered by the government-appointed Airports Commission.
The commission is due to publish an interim report at the end of 2013.
Mr Wingate made the resignation remarks at the launch of new flights from Gatwick to the USA by budget airline Norwegian, starting next summer.
A spokesman for Gatwick said Mr Wingate's comment that he would resign was a "throwaway line".
Mr Wingate has said there is a a "robust and compelling case" for going ahead with the West Sussex airport's plans for expansion, which would be privately financed.
The Airports Commission is also considering a submission from Heathrow to build a third runway.
London Mayor Boris Johnson has also put forward proposals including a four-runway hub on an artificial island in the Thames Estuary.
He has also proposed a hub on the Isle of Grain in Kent, or expanding Stansted airport.
Earlier this month, chairman of the Airports Commission, Sir Howard Davis, said its emerging thinking was that some additional runway capacity was needed in south east England.
A final recommendation for increasing capacity in the South East is not expected before 2015.