Solihull 'gym-goers scourge' Lee Lynch sought by police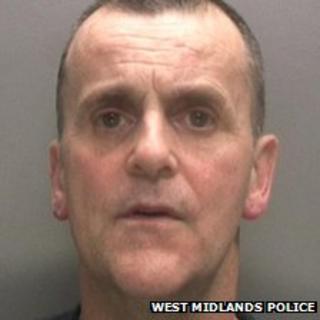 A thief described by police as the "scourge of West Midlands gym-goers" is wanted in connection with thefts across three different police forces.
Police have released an image of Lee Lynch, from Chelmsley Wood in Solihull, to try to trace him.
The 50-year-old was convicted of 143 thefts by prising open changing room lockers.
Lynch is banned from going into leisure complexes or educational facilities across the West Midlands.
He stole cash, mobile phones and vehicles by taking the car keys from the lockers.
He is now wanted in connection with further thefts in Staffordshire, Warwickshire and the West Midlands but has so far not attended court to answer the charges.