'Plebgate' row prompts West Mercia review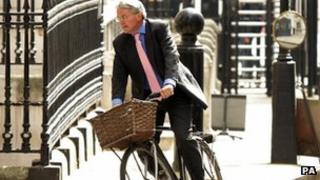 West Mercia Police is conducting a review of its investigation into a meeting between Andrew Mitchell MP and Police Federation representatives.
Three senior officers have been accused of trying to discredit the former Tory chief whip.
The Independent Police Complaints Commission (IPCC) has said there was a misconduct case to answer.
The chief constables of West Mercia, Warwickshire and West Midlands Police are due to appear before MPs.
They have all declined to comment ahead of their appearance before the Home Affairs Select Committee (HASC) on Wednesday.
Honesty questioned
A meeting was held after a row between police officers and Mr Mitchell over words he used when he was stopped from riding a bicycle through the Downing Street gates, in September last year.
A transcript of the meeting showed that, while he admitted swearing, Mr Mitchell denied using the word "pleb" or insulting the police.
But afterwards three senior police officers said he had refused to elaborate on what had happened and should resign.
On Tuesday, the IPCC questioned the "honesty and integrity" of the officers, and said West Mercia Police had been wrong to conclude they had no case to answer for misconduct.
The Police and Crime Commissioner for Warwickshire, Ron Ball, called for West Mercia Police to conduct a review of its investigation into the specific issues raised in the IPCC's latest letter.
'Very serious allegation'
Mr Ball said: "The media have interpreted the content of the IPCC letter alleging that senior officers intervened to change the outcome of the investigation.
"Specifically, that the report had been changed from 'Case to answer' to 'No case to answer'.
"That is a very serious allegation and I want to understand the exact circumstances of the investigative approval process."
In a statement the Chief Constable of West Mercia Police, David Shaw, said work was being carried out to clarify the issues raised in the IPCC letter.
A spokesman from the force said it was seeking legal advice as to whether the investigation will be available to the public.
Association of Chief Police Officers' chairman Sir Hugh Orde has said the incident demonstrated the "critical" need for a fully independent police investigation system.