Durham research finds loan companies "preying on poor"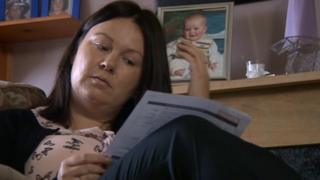 Eleanor Eamens started off borrowing £100 from a doorstep lender to help with the cost of Christmas.
Soon she ended up with six separate loans, owing the lender £4,000.
The mum from Belford in Northumberland found the £50-a-week payments impossible on her income, forcing her to choose between servicing the debt and feeding her five children.
But even towards the end when she was missing payments, the company continued to offer her loans.
She said: "I take responsibility for what I did. Nobody forced me to borrow the money, but when you are on a small income it's so tempting.
"They did not ever look if I had other debts or whether I could afford it on my income. They simply didn't have a clue."
Low income
And a new study carried out in the North East has found that Eleanor Eamens' experience was all too common of low income households.
Durham University worked with 24 families in Middlesbrough and Stockton.
Many didn't have a bank account, and the ones that did were only allowed basic services with no access to an overdraft or credit card.
The most any of the families had in savings was £4, yet their debts ranged from £340 to £10,000.
Many had multiple loans with payday and doorstep lenders, at annual interest rates of up to 4,000% even though their incomes were small.
Professor Sarah Banks, who led the study, says this had a profound and negative impact on their lives.
She said: "It was quick and convenient to get the loans, but very soon people were finding themselves saddled with large debts.
"Many were desperate, some had moved home, others had gone off incognito to try and get away from the debt and many had mental health problems which were quite severe."
Huge rates
The researchers believe these families were preyed upon by lenders even though they clearly couldn't afford the debt.
Professor Banks believes there needs to be a cap on the amount loaned to individuals and greater checks on their ability to pay.
She said: "The companies were purely interested in getting more customers and not in whether people could pay it back. They charge huge rates and built into those rates is the assumption that they will default.
"We want all these high cost credit companies to carry out affordability checks. If people can't afford them they shouldn't really be offered the loans."
And the pressure does seem to be ramping up on high cost credit companies.
The government is planning tighter regulation of the industry from next April, but Labour has gone a step further by backing some form of cap, and promising a levy on the firms.
That money will then be used to help develop community credit unions to provide low cost alternatives.
Well-supervised
But some believe the idea is unworkable. Phil Hall from the ifs University College, which specialises in financial education, says credit unions will never be a substitute because they require people to save before they can lend
He also believes the high cost credit industry is already well-supervised.
He said: "The fixation with huge APR rates for payday lenders is very misleading because APRs are annual, payday loans are not. Often it is cheaper to borrow from a payday lender than to dip into an unauthorised overdraft or to take out a lengthy bank loan but these basic facts appears to be lost on policymakers.
"The government should be cracking down on illegal lending and loan sharks rather than directing misguided attention to what is already a well regulated market."
And those who work in the industry believe they provide a vital service.
Julio Martino runs a local payday loan shop in Newcastle. He says he does check people's ability to pay and charges realistic interest rates.
He said: "I think it is important businesses do not charge ridiculous interest rates but we do have to charge a rate that allows us to make money. We are not a bank, or building society or a huge financial organisation so we cannot charge APRs similar to credit cards.
"We are essentially lending to people who cannot get credit from banks, and companies like mine are willing to take a slightly greater risk to lend to these people who do need credit."
Credit unions
But the researchers at Durham University believe people can be given help to avoid unmanageable debt.
They worked with community organisation Thrive Teesside to provide mentors for low income families to guide them.
That helped many, and some now do use credit unions.
Eleanor Eamens has also drawn a line under her loans. She'll be debt-free by January and has begun saving with her local credit union.
She says she'll never go back to high cost credit.
But with the high cost credit industry worth many hundreds of millions of pounds, will it ever be possible - or even desirable - to wean people off the payday and doorstep lender?