Rail investigators to look at track falls in Essex and Surrey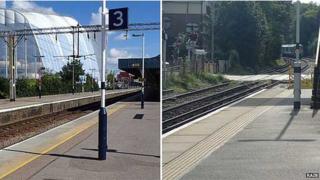 An investigation into rail platforms where a baby in a pushchair and a woman in a wheelchair rolled onto the tracks is to be carried out.
Platform slopes have been discovered at both Southend Central and Whyteleafe stations.
The Rail Accident Investigation Branch (RAIB) said it would be looking at why these stations had gradients "sloping towards the track".
It will also look at whether such slopes exist elsewhere.
The RAIB told how the baby in the pushchair had been left parallel with the track at Whyteleafe station on 17 September while its mother went to get tickets.
The brake was not applied and the pushchair rolled forward, turned 90 degrees and fell onto the track.
It "narrowly missed the live conductor rail", said an RAIB spokesman.
The mother and other passengers jumped onto the track to rescue the child, which was left with minor injuries.
'Manage the risk'
However, in a similar incident in Southend, a 71-year-old woman in a wheelchair suffered a broken hip.
She had been with her carer and was positioned mid-way along the platform when she started to roll forward. Again, no brake had been applied, and she fell onto the railway, still strapped into her chair,
A worker at the station and other passengers rescued her from the line.
The worker was initially suspended amid concerns he had breached healthy and safety rules but was later reinstated.
In a statement, the RAIB said its investigation would "review the extent to which this hazard is recognised by the railway industry and the steps taken to manage the risk."